Program Highlights
Interns work in a variety of departments, including Technology, Information Security & Analytics, Marketing, Human Resources and Management.  Many of these positions are located at our main campuses in Vienna, Va., Winchester, Va., and Pensacola, Fla., while others are virtual.
All Navy Federal interns enjoy:
Competitive pay

Job placement for a minimum of 10 weeks

Eligibility for Navy Federal Credit Union membership

Roles within nearly every department

Access to on-site fitness centers and cafeterias

Discounts on tickets for entertainment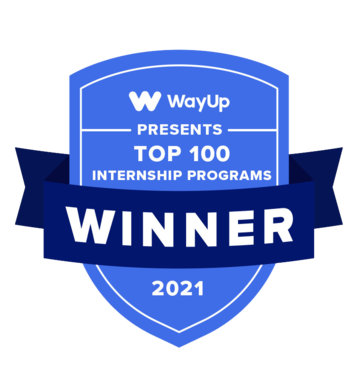 WayUp Top 100 Internship Programs Winner 2021
A panel of expert judges and members of the public voted our internship program as one of the greats! Perks like introductions to senior leadership, discounts on events and services, and fun team-building activities like our virtual fitness and cooking classes helped us earn the honor. 
Year-Round Interns
Our year-round internship program is perfect for part-time college students who need a flexible schedule. Year-round interns can work in these roles for 1 year or extend their term for as long as they're enrolled in college. 
Summer Associate Graduate Internship
This program gives graduate students the chance to work on high-stakes projects focused on innovation. These roles are often on one of our Analytics, Technology, Marketing, Operations Research and Strategy teams. 
During the 10-week internship, summer associates will interact with executives, leadership and individual contributors across the credit union. 
Summer Internship Program
The 10-week summer internship program is geared toward undergraduate and graduate students during their summer breaks. This program gives college students the opportunity to obtain corporate experience and the potential to be hired for full-time roles.
" My Navy Federal teammates have been incredibly supportive! I've done a lot of learning and growing in my professional life over the past year, and I'm grateful for their support and encouragement. "

Kendall P., summer intern
" As part of my summer project, I wanted to learn about best practices in product management from teams around Navy Federal. I didn't expect everyone I reached out to be so generous with their time in helping to answer my questions. "

Katarina S., summer associate
" In my role on the Mission Data team, I worked on cutting edge technologies. Everyone here has something new to share every day and that's how we are all growing. "

Jaspreet S., summer associate
Partner Programs
We're proud to partner with the following organizations to offer work opportunities for students.
University Partners

Navy Federal partners with more than a dozen universities across the country to recruit talent. To see if your college or university is a partner, contact your school's career services office.

Year Up

Geared toward candidates with diverse backgrounds, Year Up is a year-long apprenticeship program. Interns receive 6 months of paid classroom and hands-on training before beginning their 6-month internship.

MADE Interns

This 3-month summer internship is for students who are interested in pursuing a career in marketing. The MADE internship is a partnership between Navy Federal Credit Union and the ANA Education Foundation (AEF).